Annie (2018)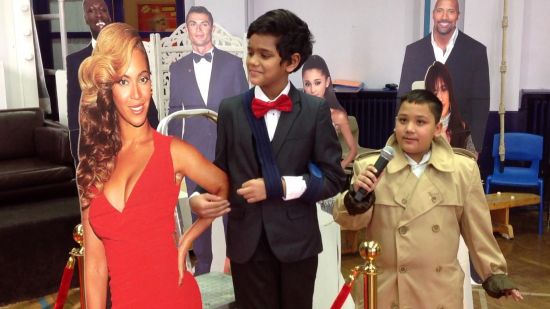 Aladdin (2017)
What they can do in London's West End, we can do too! This year's production, a double night showing, was that of Aladdin. Dorrington continued with their tradition of getting bigger and better each year, and this was no disappointment! With some classic songs throughout the night, some marvellous acting on a magnificent stage and of course Dorrington's own 'Royal Collection' dance troupe. The crowd were enthralled all night with scene changes to rival the West End and costumes to match.
The main cast included:
Faizaan Mohammed Shoaib as Aladdin
Marwah Tariq as Jasmine
Rebekah Humphries as Genie
Danial Anumba as Jafar
Ismail Akram as Sultan
Azaan Ali as Omar
Jamie Bennett as Saladin
Shamil Rahman as Iago
Adil Rahman as Sisco
Deeya Roopra as Amira
Rameen Mahmood as Dima
Maria Ahmed as Sana
Hafsah Ehigie as Karima
The Royal Collection were:

Nancy Boko-Hyouyhat, Kyra Wadhan , Esther Mkandawire, Layla Green, Tiyah Gregory, Nefertáre St Clair-Hughes, Safa Rahman, Shamma Agboola, Rameen Mahmood , Hafsah Ehigie, Reneé Porter-Fraser, Chase Brown, Sebastian Deans, Christian Efedjare, Iniko St Clair-Hughes, Riccardo Copeland, Nigel Agboola, Sulayman Sanneh, Ibrahim Keita, Abraham White, Shiloh Johnson-Atkinson and Ray-Jay Haynes.
Click here to view more pictures
Mr Stink (2016)
With the previous success on a David Walliams Gangsta Granny, Dorrington embarked on turning Mr Stink into their next production. Although the play was called Mr Stink, it was anything but amazing acting, singing and dancing all around. Each year, the productions got bigger and this was no exception! A 4D performance if there was one; Mr Stink's burps could be seen by all in the audience (some say they could smell it too!)
As always there was lots of singing and dancing on the stage. Truly magnificent.
The main cast included:
Isa Khan as Mr Stink
Tabasum Kiyani as Chloe
Huda Ali as Mum
Abidah Ahmed as Annabel
Suha Rahman as the Prime Minister
Salehedin Almontaser as the Prime Minister's husband
Ibrahim Shabir as Dad
Hana Ravat as the main reporter
Bailey Holden-Blair as Mr Stink's dog
Click here to view more pictures
Gangsta Granny (2015)
Following the success of David Walliams books, Dorrington thought about how they could adapt the story for their take on it. With a motorized scooter at hand and Raj's best deals the production was afoot. As always the children were magnificent with their acting, singing and dancing.
The main cast included:
Simeon Humphries as Ben
Aisha Blissett as Gran
Suha Rahman as Ben's sister
Hana Ravat as Mum
Ryan Patara as Dad
Hanzala Zaman as Raj (The Local Newsagent)
Ritika Rajput as Mrs Parker (Neighbourhood Watch)
Arjen Ahmed as John Parker (Neighbourhood Watch)
Gurshandeep Dillon as a Newsreader
Amir Mir as DCI Adams
Click here to view more pictures
Charlie and the Chocolate Factory (2014)
Come with us into a world of pure imagination…
This year Dorrington put on their version of Charlie and the Chocolate factory. The hugely successful production was a delight to watch with the children acting, singing and dancing throughout the production. Who could forget that moment when Mike Teevee was shrunk down to an Action-man size or when Violet turned violet and blew up like a blueberry!
The main cast included:
Huzaifa Zaman as Charlie Bucket
Simeon Humphries as Grandpa Joe
Orion Martin as Willy Wonka
Gianna Daley as Veruca Salt
Shontréz Lecky as Violet Beauregarde
Arjen Ahmed as Mike Teevee
Spencer Thorpe as Augustus Gloop
Click here to view more photos
Read all about it (2013)
Our first big production was 'Read all about it'. Based on the west end show of Matilda, our production whisked you away on a journey across a range of different stories including 'The Hobbit', 'The Chronicles of Narnia' and 'The Gruffalo'.
Children across the school took part in the production with a variety of different roles including, singing, dancing and acting.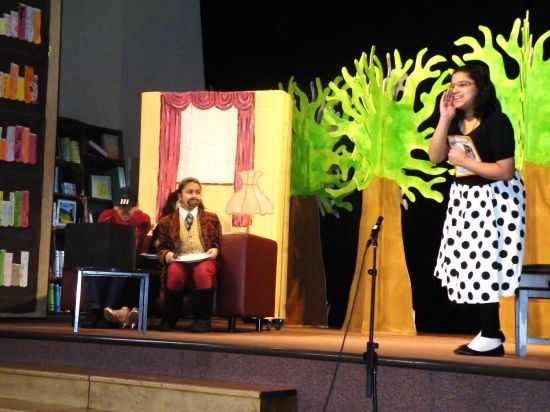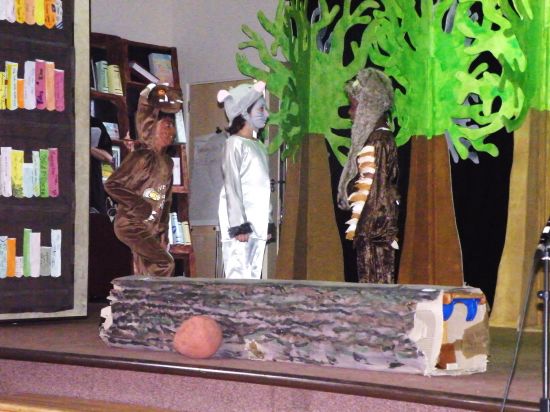 The Main Cast included:
Faiza Hussain as Matilda
Latisha Sidhu as Mr Wormwood
Mariyyah Waheed as Mrs Wormwood
Dillon Bahia as Michael Wormwood
Hajrah Chaudry as Miss Honey
Tyanna Simpson as Miss Trunchbull
Click here to view more photos